A double cd with live improvised scores to the classic silent films, Nosferatu and l'Inferno.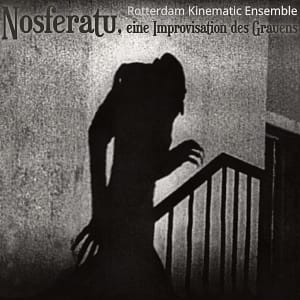 The Rotterdam Kinematic Ensemble improvises using Friedrich Wilhelm Murnau's 1922 masterpiece Nosferatu, ein Symphonie des Grauens as a live score.
Philipp Ernsting – percussions
Friso van Wijck – percussions
Gonçalo Almeida – doublebass
Lucija Gregov – cello
Christine Cornwell – violin
Henk Bakker – bass clarinet
Ivo Paunov – soprano sax & flute
Reinier van Houdt – organ & piano
Performed 11 06 2021 in Oude Kerk Rotterdam Charlois
Recording, mix & master – Robert Kroos
The Rotterdam Kinematic Ensemble improvises on the depictions of Hell as shown in the notorious Italian 1911 film l'Inferno. Directed by Francesco Bertolini and Adolfo Padovan it is considered the first Italian feature film with amazing special effects and now.. an amazing score.
Maria Martpay – marimba
Nina Hitz – cello
Johanna Monk- saxs,clarinets &little instr.
Philipp Ernsting – percussions
Gonçalo Almeida – doublebass
Hugo Costa – alto sax
Robert Kroos – electronics
Giovanni di Domenico – organ & piano
Performed 18-06 2021 in Oude Kerk Rotterdam Charlois
Recording, mix & master – Robert Kroos