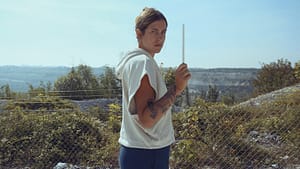 (2023)
4k video / 22 min / sound
Cinematographer: Marco Padoan. 1AC: Oscar Asplind. Sound recordist/boom operator: John Rönnerblad.
Music, sound design and mix: Robert Kroos
Color grading: Marco Padoan
Actors: Elin Persson, Emeline Anderson, Siri Bengtén
Aeon is situated around an old limestone quarry in Malmö, Sweden and is investigating ideas around western knowledge production, not-knowing as a radical position of learning and social constructions that floats between practices of remembering and forgetting. The narrative is carrying conversations around human´s extraction of natural resources which are framed by stories from the artist ancestors working in the quarry and their dreams of a better life as working class.
The theatrical element of the film brings the narrative forward and backwards in time simultaneously and is looking for moments when time loops, moments where ritual and theatre merges and allows for attempts of healing.
Made possible by the generous support of the Mondriaan Fund, CBK Rotterdam, Stichting Niemeijer Fonds and Filmcentrum Syd.